Our vision is to advance human safety to enable long, healthy, productive lives through innovative solutions
It is more important than ever for healthcare clinicians, emergency responders, dentists, and other outpatient service providers to be equipped with adequate PPE (personal protective equipment). Bullard is a safety company that specializes in respiratory, head and face protection, designed for the most demanding life sciences applications around the world.
Respiratory Protection for Dentists
"The EVA powered air-purifying respirator with the RT hood is the sole hood without a head suspension and provides the largest viewing area, a crucial feature when it comes to using surgical loupes."

Dr. Marcello Marchesi
Aerosol Generating Procedures
Aerosol generating procedures (AGPs) may expose healthcare clinicians, emergency responders and dentist, for example, to pathogens causing acute respiratory infections (ARIs). Commonly used dental equipment known to create aerosols and airborne contamination include ultrasonic scaler, high-speed dental handpiece, air/water syringe, air polishing, and air abrasion. Other medical procedures include endotracheal intubation & extubating, autopsy of lung tissue, bronchoscopy, airway suctioning, cardio-pulmonary resuscitation (CPR) and many others. At minimum, eye protection and a surgical or procedure mask or a loose-fitting powered air-purifying respirator should be used by healthcare providers or staff members within proximity of the procedures generating aerosols, regardless of the patient's infection status.
Powered Respirators for
Healthcare
SALUS HC Powered Air-Purifying Respirator
Splash and respiratory protection in one system
No breathing resistance; cool & comfortable free-flowing breathable air
Assigned Protector Factor (APF) 2.5x greater than an N95 mask
Reusable components help reduce protective equipment waste
No fit test; beard approved
Free from tight-fitting respirator abrasions & skin conditions such as dermatitis
Request a Quote
---
EVA PAPR with 20LF2HE Loose-fitting Facepiece (EVAPAN4)
All-in-one system ready for use - including one HEPA filter
Filters exhalated air to keep your patients safe
Assigned protection factor (APF) 2.5X greater than an N95 mask
Improves breathing and overall comfort compared to an N95 mask
Loose-fitting facepiece designed for use with a stethoscope
No fit test
Request a Quote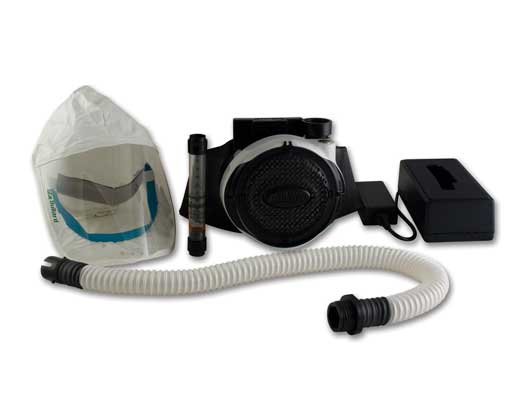 ---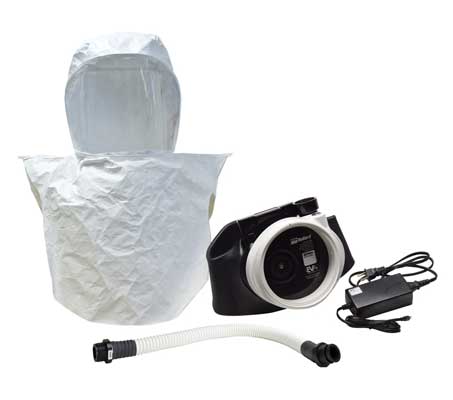 EVA PAPR with RT3T Hood (EVART3T)
Assigned protection factor (APF) 100X greater than an N95 mask
Improves breathing and overall comfort compared to an N95 mask
Widest lens on the market (135 sq. in.) provides for unobstructed visibility
No fit test
Request a Quote
FACE PROTECTION
Healthcare Faceshield (HFS)
Large coverage visor for maximum protection
Comfortable foam head cushion
Usable with face mask and eye protection
Fog-resistant lens
Elastic band to accommodate most head sizes
Request a Quote
SENTINEL 1 + Visor 6-Pack with 840M Acetate or 840ME
Standalone face protection with chemical resistant visor for optimal sanitizing in medical environments
Crown protector to shield forehead
8"x15" visor providing wide coverage
Allows for additional PPE to be worn (eye protection, masks, etc.)
Large Flex-Gear® ratchet knob for easy adjustment
Request a Quote
Powered respirators vs. n95 mask
The EVA Powered Respirator by Bullard is the right protection for the job. Reusable respirators provide a higher assigned protection factor (APF) of up to 100X greater than N95 masks. They improve breathability and overall comfort. EVA incorporates respiratory, face, and eye protection in a single system and doesn't require a fit test.
Powered Respirators can provide a substantial savings in maintenance and use vs. N95 masks and face shields.
Has your hospital struggled with the many clinical, financial and sourcing challenges of N95 masks? Many have, but you have an exceptional solution with the EVA powered air-purifying respirator (PAPR) from Bullard, from one of the most established PAPR manufactures in the industry. Design and manufactured in Kentucky, USA.
Try the PAPR vs. N95 Cost in Use Calculator today to see how much you could be savings by switching to a reusable respirator.
Frequently Asked Questions
Get in touch
We'd love to hear from you. Drop us a line or give us a call if you have any questions.
The Office
Address: 1898 Safety Way Cynthiana, KY 41031
USA Toll Free: 877-BULLARD (285-5273)
Phone: +1-859-234-6616
Fax: +1-859-234-8987
Business Hours
Monday - Friday 8am to 6pm (EST)